It's an unsurprising result at the tip of the grid at Silverstone, but just behind is a surprise.
Max Verstappen scored his fifth pole position in a row on Saturday, but it wasn't just smooth sailing for the Dutchman. Wet conditions meant he understeered in the pitlane in the first of three qualifying rounds and hit the wall, requiring a front wing change. 
He still managed to record a storming lap at the end of the final round to usurp Lando Norris and take pole position by 0.241 seconds. 
"It's been quite a crazy qualifying," Verstappen said. "It's been quite hectic and quite slippery in places but we did our laps."
Even Verstappen was impressed by the improvements from McLaren.
"In Q3 I was surprised to see those two there but it's great for McLaren to be here," he said. "From our side very happy to be involved."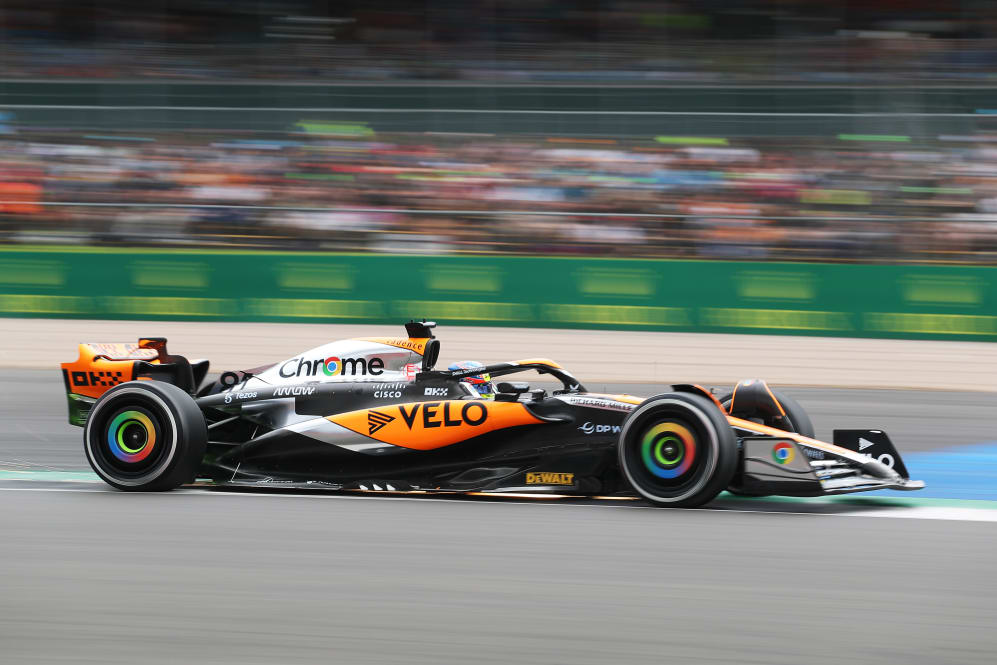 The happiest team after qualifying has to be McLaren. The team has struggled this year in qualifying and races, and currently sits a distant sixth in the standings. A strong run to earn second and third on the grid is a major win for the team and head Zak Brown.
It's an especially popular result, too, with the Woking team a British fan favorite. When Lando Norris briefly topped the timing charts in the final round of qualifying, he earned loud cheers from the Silverstone crowd. 
"Pretty insane," Lando summed it up. "My last lap was a good lap. I could hear Zak on the radio on the in-lap which was the best thing ever."
"It's always Max. He always ruins everything for everyone," Lando quipped. 
Rookie teammate Oscar Piastri was equally impressed with the car. It's given him his best start in Formula One by some distance.
"What a qualifying session," he said. "We were almost out in Q1 and Q2 but the car was like a rocket ship in Q3."
The two Ferraris followed to earn fourth and fifth on the grid, with both Mercedes just behind. George Russell and Lewis Hamilton will both start sixth and seventh respectively. 
Silverstone-based team Aston Martin could only manage one driver in the final round. Fernando Alonso will start the British Grand Prix in ninth, behind Williams' Alex Albon and ahead of Alpine's Pierre Gasly, who will start tenth. 
The weather played a big role in qualifying. Rain meant the track started off wet and slick, and several drivers opted for intermediate tires. The soft tire proved dominant throughout the session, though, even in slippery conditions. 
One driver who struggled on the slippery track was Verstappen's teammate Sergio Perez. He was the first car out on track, without the advantage of a dry line forming, while teammate Verstappen was actually last. 
Perez's slow time meant he was out in the first round of qualifying and will start 16th, continuing a streak of poor qualifying results. He hasn't reached the final round in qualifying, a top ten shootout, in five races. 
"Terrible session," Perez acknowledged. "Towards the end, I think the red flag lasted longer than we thought and we stayed there waiting quite a long time and I just couldn't put enough temperature into the tyre."
"It's very frustrating because we had a good Friday, the pace in the car was there and we paid the price. I think in these tricky conditions is where I struggle the most with the car so it's something for us to understand as well," he added.
The British Grand Prix will air Sunday at 10am ET on ESPN2. 
Latest posts by Owen Johnson
(see all)
Comments
comments